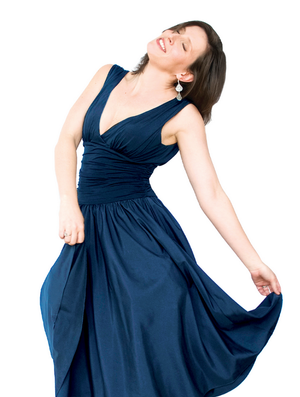 "Country-tinged chanteuse Edie Carey is blessed with a soaring voice 
and damn fine songwriting skills..." 
- Philadelphia City Paper
PRAISE FOR "THE VEIL" (2022)
"The Veil" was listed as #4 in the BASIC FOLK Top Ten Favorite Albums of 2022 So Far along with Anais Mitchell, Aiofe O'Donovan and Mary Gauthier.
PRESS QUOTES:
"One of the best CDs of the year..."
- Americana Highways  
"Carey's 11th album is a direct hit to the solar plexus...Carey has always had more talent than her national profile would suggest, and if this new work doesn't raise that profile exponentially, there's simply no justice left in the Americana genre." -The Independent
"Carey's voice has never sounded better...hauntingly beautiful...a brilliant record." - Maverick Magazine
"Carey pulls her heart wide open in this collection of articulate, highly personal songs...it isn't always comfortable listening but, for those willing to persevere, the experience is a highly rewarding one." - At The Barrier
"Six albums into her career—more if you count her various collaborations and live recordings—Edie Carey has established herself as a singer-songwriter who is apparently unafraid to get all the way into the depths of her feelings with her songwriting. Carey writes the kinds of songs that can feel like a relief to listen to, and that is because she is undeterred by vulnerability. On her latest album, The Veil, she unpacks thoughts and feelings about family: making it, holding it, struggling with it, cherishing it.
-Why We Write with Kim Ruehl (Folk Alley Podcast)
"A song to mother you, to lift up those nurturing relationships that have the power to re-center us all." - Folk Alley on "Rise" (off The Veil)
PRAISE FOR 'TIL THE MORNING: LULLABIES AND SONGS OF COMFORT
BY EDIE CAREY + SARAH SAMPLE (2014) 
Best Children's Album, 2014 Independent Music Awards
Parents' Choice Gold Award Winner 2014 
NAPPA Gold Award Winner 2014 
Family Choice Gold Award, 2015 
A 2014 Top 10 Debut Children's Album - Zooglobble
(NPR Kid's Music Critic) 
Parents Magazine:  "The harmonious voices of Edie Carey and Sarah Sample blend together perfectly on the aptly named 'Til The Morning:  Lullabies and Songs of Comfort.  The gentle melodies will soothe your little one to sleep in no time."   
Popmatters:  "Quite the intoxicating blend of the sentimental and pensive, and is perfect for new moms and their tiny offspring. A beautiful and relaxing listen…won't leave you with a dry eye." 
Midwest Book Review: "…a transcendentally beautiful music CD. Though created especially to soothe children at bedtime, the rolling, melodic duets will ease the minds and free the imaginations of listeners of all ages. Unique and exquisitely wondrous, 'Til the Morning is highly recommended." 
MusicWeb Express: " 'Til The Morning is among the most serene and easy on the ears singer-songwriter albums of 2014." 
Shakefire:  "A+…An absolute keeper for its incredible beauty and its relaxing techniques."
________________________________________________________
PRAISE FOR BRING THE SEA (2010) 
Maverick Magazine:  "  * * * *  " (4 / 4 stars) 
Seattle Post-Intelligencer: "Singer/songwriters like Shawn Colvin, David Wilcox, the Indigo Girls, Paula Cole…and Brandi Carlile have been added to my CD collection over the years…so let me now add Edie Carey to the list. Her soulful voice and storytelling style instantly made me think of Shawn Colvin, so she fits right in…How I've managed to miss her previous six albums in the last 12 years is beyond me, but I'm not missing her seventh - Bring the Sea…[Carey] has a gift like all great storytellers." 
M Music & Musicians: "Artists like Edie Carey provide a valuable, if underappreciated, public service. As per her official bio, Carey occupies that "middle ground between singing at weddings and being Madonna," and while she might never be a pop star, this strumming balladeer poetess writes truthful, elegant songs for adults. Her seventh album is about following dreams, starting families, overcoming insecurity and losing the destructive youthful notion that true love has to be painful. Backed by barely-there strings, mandolins, accordions and other instruments, Carey plays acoustic guitar and sings with the gentle, reassuring voice of someone who's shared her audience's everyday joys and disappointments. She might not play at your wedding, but she'll sing about your marriage."
Pasadena Weekly:  "  * * * *  " (4 out of 5 stars) 
"Quietly lovely, the singer-songwriter's seventh album movingly expresses newlywed happiness and celebration in "Easy Now" ("All those years believing/ Love meant someone's leaving") and "Waiting" ("My heart was tired, a faded paper valentine/ Now my heart's a child, racing crazy every time"). Other highlights: "Love" and "On & On." Evan Brubaker's production strikes a graceful balance between polish and earthy warmth, understatedly burnishing Carey's elegance and revealing introspection. Shawn Colvin and Mary Chapin Carpenter fans, take heed." 
________________________________________________________
 
PRAISE FOR ANOTHER KIND OF FIRE  (2006) 
Chicago Sun-Times: "Carey may have started out wanting to be a doctor but she found her true calling in music. Her pop-folk songs are smart tales of love, life and longing."   
Smother.net: "Boston's Edie Carey delivers another burning catchy album of Americana roots-oriented folk-rock. Her vocal delivery is tender yet interesting and brazen… Far from common, Edie Carey is a young female artist that deserves the recognition of being a bright spot in the pop world." 
Bay Area Reporter: "On her fourth studio album, 'Another Kind of Fire,' Edie Carey demonstrates why she is an in-demand performer. In the tradition of Dar Williams, her songs strike a universal chord, her voicing is soothing, yet strong, and the arrangements never fail to have an emotional impact. Songs such as 'Bonfire,' 'My Heart' and 'Hollywood Ending' qualify Carey as the Shawn Colvin of her generation. 
INK19.com: "From the opening bars of the atmospheric and slick "Hollywood Ending" to the sparse and breathless ballad "What Love Looks Like," Carey has created an album bursting with songwriting depth and melodic richness. Producer Crit Harmon may be responsible for the lush tapestry of sound on "Another Kind of Fire," but Carey is entirely responsible for the mature vocals and unforgettable melodies on tracks like the heartfelt "The Night" and the beautiful "My Heart." Drawing comparison to folk-pop artists such as Catie Curtis, Carey's songs consistently maintain the delicate balance between commercial potential and a true indie spirit. Carey may have called her label Accidental Poet, but on the evidence of "Another Kind of Fire," her musical success has more to do with talent than good fortune. 
Glide Magazine: "With her latest album, 'Another Kind of Fire,' Edie Carey has created another completely listenable, imminently catchy album.  Released in September, this is the perfect album for autumn: reflective, a bit overcast (but not so much as to be  depressing), and, like the gorgeous dying leaves, completely enjoyable… Carey is a wonderful blend of musical styles and lyric as well as harmonic proficiency, and 'Another Kind of Fire' is no exception…As always, Carey's lyrics shine through, though never so much as to overshadow the often-gorgeous melodies and instrumentation underneath.  The album is impressively polished, though never over-produced, with solid instrumentation supporting her beautiful voice throughout the work." 
Pulse of The Twin Cities: "Make sure and get out to hear the angelic pipes of Edie Carey…She's touring on her latest, killer album, the Crit Harmon-produced 'Another Kind Of Fire,' and it's definitely worth a listen." 
________________________________________________________
PRAISE FOR WHEN I WAS MADE (2004) 
Best Folk Album Nominee, 2004 Independent Music Awards
Country Music Weekly:  "  * * * *  " (4 / 4 stars) 
Performing Songwriter: "Her voice [is] a full, expressive instrument with the gentility of Suzanne Vega and the soft punch of Rickie Lee Jones…On Carey's fourth album 'When I Was Made' she adds…a warm, rootsy mix, reminiscent of country-tinged chanteuses like Bonnie Raitt and Lucinda Williams (if not as rough as the latter). The result is a lovely, shimmering, heart-felt record, highlighted by springy ballads like 'Open Wide' and 'Chemistry,' both of which, in tone and content, deal poignantly with the imperfections of romance." 
Paste Magazine: "Edie Carey is gifted with one of those voices that could sound great singing anything. So the mystery and beauty on her [third] studio full-length is how she maintains an intimate, delicate approach on her elegant, if low-key singer-songwriter folk-pop. Economic instrumentation forces all your attention toward the gentle story-telling, rich with humanity and insight… Vulnerable and pleasing, Carey draws us into her world, where we find we have a lot in common." 
Harp Magazine: "Bare of self-pity and full of down-to-earth revelation, 'When I Was Made' is a little country, a little adult-contemporary, and a lot of fine music." 
Boston Herald: "You know the Americana trend has taken hold when one of New York City's slickest acoustic-popsters, Edie Carey, adds banjo and dobro to her indie album 'When I Was Made.' The sound suits her, too. It's a tuneful, lightly plaintive folk-pop winner…" 
Philadelphia City Paper: "New York-based, country-tinged chanteuse Edie Carey is blessed with a soaring voice and damn fine songwriting skills. Her latest CD, "When I Was Made," was an Album of the Year finalist in the Independent Music Awards in 2003, and for good reason: It's a charmingly unassuming collection of lithe ballads that are devoid of self-pity but loaded up with heartfelt revelations." 
A/V Club (The Onion): "What sets [Carey] apart…is her effortless ability to be gentle: The songs on last year's 'When I Was Made' don't need to get loud to be effective. Listen closely, and expect to be impressed." 
Creative Loafing Atlanta: "Carey is a wonderfully expressive singer-songwriter who deftly balances wrenching musical vignettes with engaging stories and an overall friendly vibe. " 
King County Journal: "A really, really great talent who straddles country and folk music with equal grace. Recommended." 
Cedar Rapids Gazette: "It's hard to believe that a woman whose voice combines Jewel's gasping, slightly accented delivery with Sheryl Crow's perky and poppy vocal style has to release her albums independently. But Edie Carey may not be independent for long, based on the strength of her third album, "When I Was Made." 
Ithaca Journal: "[Carey's] fourth and latest CD, 2004's "When I Was Made," was one of the best CDs I heard last year. Always a fine lyricist and singer, Carey added some rootsy touches (banjo, Dobro, lap steel) in the studio to flesh out an excellent set of songs." 
Gritz: Magazine of Southern Culture & Music: "Once in a while, while plowing through the piles of CD's we get here at Gritz, I happen across a real diamond in the rough. Such was the case with this album from Edie Carey. This girl has one of the most pleasing voices I have heard in a while, and her songwriting only serves to enhance the whole package. Moody, beautiful tunes like 'Open Wide' mix with up tempo acoustic romps like 'With Our Hands' and 'Chemistry.' A beautiful, beautiful album." 
All Music Guide: "If this album had been released in the late '90s, Edie Carey would have found herself as a part of the Lilith Fair circuit. Her sensitive inger/songwriter style fits right in alongside such female olk-pop performers as Paula Cole, Dar Williams, and Shawn Colvin. However, Carey isn't just another English major turning her diary into songs. She displays a true skill at exploring the ways relationships affect the heart and mind. Her whispery voice is particularly good at conveying emotional vulnerability. "Anyone can see my heart is reeling," she sings on the opening number "With Our Hands," which sets up the disc's examination of how people deal with heartache. "Wide Open" takes on an obsessive mood as the protagonist wonders "if I drive by your house tonight, what would I find?" The melancholy-dipped "Already Gone" counsels that "love should not drag you down or beg you to stay." Carey tackles the weighty issue of her parents' divorce on "If I Start to Cry" so poignantly that her pain is palpable. Not every tune, however, is an emotionally heavy number. The radio-friendly "I Need You" is an exuberant declaration of love. It definitely is one of the disc's standout songs. Besides displaying lyrical wit and musical vibrancy, it is also one of few up-tempo tunes here. Carey does try to compensate for the predominance of sad, introspective songs by infusing the arrangements with a bit of twang. A banjo enlivens "With Our Hands" and "Chemistry," while a pedal steel reinforces the sense of loneliness in "Already Gone." While Carey travels down the familiar inger/songwriter path of dissecting broken hearts and busted relationships, she finds some fresh, and moving ways to express her feelings in song. When I Was Made stands up impressively with the albums that the Lilith Fair crowd has produced."